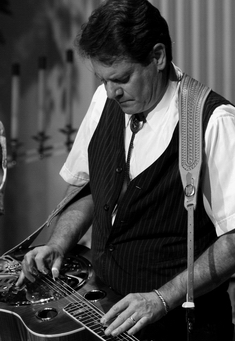 Will Jaffe, Dobro, Lap Steel, Lead Guitar, Banjo and Mandolin

Will's mastery of stringed instruments has brought joy to audiences for almost 40 years. Will has mastered many styles of music, including Blues, Country, Rock, Rock'n'Roll, Pop, Southern Rock, Swing, Jazz, Bluegrass and Reggae just to mention a few. He started music at 8 years of age playing the Clarinet in his school orchestra. At 12 years of age he played the Trumpet in the school marching band. Music was a big part of the Jaffe household. Willís older brother was a genius pianist and oboe player. At the age of 14 Will fell in love with the Guitar. The two had been inseparable, until the dobro came along.

To further expand his knowledge of music, Will completed two years of Instrumental Performance at the renowned Berklee School of Music in Boston. He has performed as lead guitarist for several top bands touring New York State clubs in the 1970's and 1980's. He performed with the Cobleskill Jazz Band as opening act for Duke Ellington. In the 1990's Will performed over 200 shows a year, as band leader and guitarist with the Jaffe Band, a variety dance band performing a vast repertoire of diverse music. Will has performed on television, radio, many concert stages and recently performed with legend Patti Page. Though he prefers to play his ax and sing, he has played the role of band leader numerous times. After the turn of the century, Will took up acoustic instruments. First violin then mandolin and is now obsessed with dobro, a square necked, resonator, slide guitar. He also teaches Dobro, Lap Steel, Guitar, Banjo and Mandolin. Will can be heard and seen performing on the west coast with Blue Creek Band, MohaviSoul Band, The Big Decesions Band and other groups and musicians. Will is always looking for new gigs and projects. Please contact him now about your gig.